Netherlands National Museum Weekend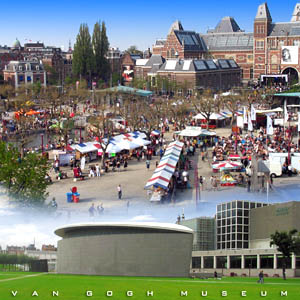 The first weekend of April sees the Netherlands hosting its National Museum Weekend.
With over 450 museums participating in the annual event, the weekend gives tourists the perfect chance to soak up some culture free of charge. Last year the weekend attracted 850,000 visitors.
The city offering the most attractions during the event is Amsterdam, which boasts more museums per square metre than any other city in the world.
Highlights on offer in the capital include the collection of Renaissance and medieval art at the Rijksmuseum, the Vincent Van Gogh Museum and the Dutch Resistance Museum.
The Rijksmuseum is famous for housing Rembrandt's Night Watch and the Vincent Van Gogh museum contains the world's largest collection of the artist's work, including Sunflowers.
Other attractions such as Anne Frank's House are also included in the weekend, when most of the country's museums offer free or discounted entry and some extend their opening hours.
During the weekend, there are also other special events around the country, including entertainment for children as well as films, guided tours and workshops.